Do you have questions about home health care? Team Phoenix has answers! Read on to learn more about these types of services in terms of what we do at Phoenix Home Care & Hospice.
What is home health care?
Home health care is a branch of allied health and medicine that supports services from a professional caregiver in someone's home as opposed to going to a clinic, doctor's office, assisted living facility, or nursing home. Home health care is also called skilled home health care to differentiate these services from others that do not require a medical professional.
What is the primary goal of home health care?
The ultimate goal of home health care is to avoid subsequent hospitalizations following discharge from a hospital stay.
What types of services does home health care provide?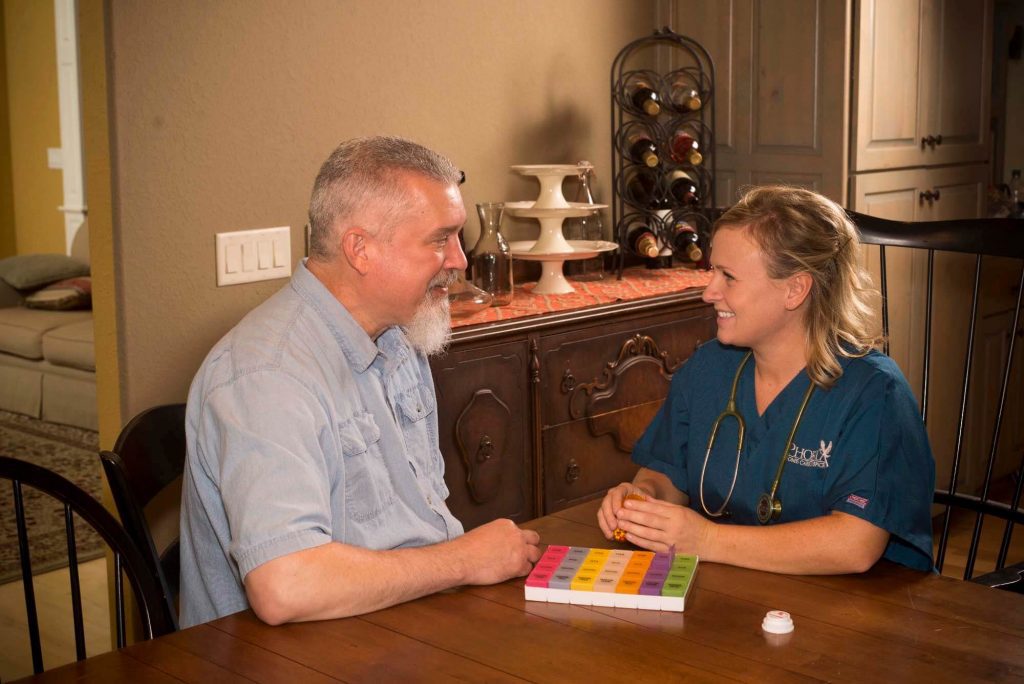 These services run the entire range of medical care, so long as no special equipment is needed.
Patients may receive:
Nursing care from a registered nurse, including ostomy care, wound dressing, intravenous therapy, administering medication, pain management, and assessing general health.
Assistance after a hospital stay or surgery to facilitate better healing.
Physical therapy to help regain the full use of muscles and joints.
Speech therapy to improve or regain the ability to communicate clearly, particularly after a stroke or other disorder that impairs speech.
Occupational therapy to develop someone's body and mind so they can perform daily functions such as eating, bathing, dressing, and personal care, particularly when relearning tasks due to physical, developmental, social or emotional disability.
Medical social services, such as counseling and locating community resources, that help with emotional healing.
Laboratory tests, such as blood tests, urine tests, x-ray imaging, and other diagnostic tests that can be performed at home with portable devices and sample collection apparatus.
How do I pay for home health care?
Medicare and Medicaid can both pay for home health care. Qualifications for payment vary by state. To be eligible, a doctor generally must prescribe these services as medically necessary.
Without health insurance or government benefits, patients must pay out of pocket for home health care.
How much does home health care cost?
In Missouri, home health care costs an average of $4,195 per month.
In Kansas, the average cost comes to $4,004 per month.
In Illinois, the average cost is $4,481.
The national average for home health care comes to $4,290.
Why is home health care important?
These types of medical services benefit patients for a number of reasons, including:
Better healing outcomes. Research shows patients recover faster and have fewer complications when healing at home rather than in a hospital.
Improved care management and pain management. When a skilled home health care professional manages medications and assists with someone's care, it improves a person's care and pain management by possibly avoiding harmful drug interactions.
May prevent return trips to the hospital. Having someone regularly monitor a patient's health condition can ascertain whether someone needs to return to a hospital, see a doctor, or need just a little extra health care.
Provides relief for family members. Called respite care, home health care agencies can give family members a break from the full-time rigors of caring for a loved one.
Fosters independence. Someone can live independently at home in a familiar place to help heal faster.
Healing at home. Rather than moving a loved one to a strange place like a nursing home or assisted living facility, you can heal among familiar surroundings where you're comfortable.
How many companies provide home health care in the United States?
As of 2021, there are around 46,000 companies that provide home health care services in the United States.
How many home health care visits does Medicare cover?
Medicare can pay for the full cost of this service for up to 60 days at a time, and it will pay for at least one visit every 60 days thereafter provided a doctor prescribes home health care for a patient.
Does home health care include psychological services?
Sometimes called behavioral home health, many home health care agencies offer psychological services with licensed counselors who give you or your loved one emotional support during the healing process.
Who receives home health care services?
Anyone can receive these skilled services, including:
Seniors coming home from the hospital. Often, it's easier and less expensive to have someone heal at home versus in an assisted living facility.
Children with special or medical needs. Rather than regular visits to a doctor's office or therapist's office, home health care can meet your child in familiar surroundings where it is less stressful.
Young adults and adults with special needs. People with developmental disabilities who have difficulties with everyday activities may receive home health care when they require medical monitoring. Again, the goal here is to reduce stress and hospital visits.
Anyone who wants to heal at home. Particularly if you're just coming home from the hospital and healing may involve an extended process, you might be eligible for home health care.
What is comprehensive disease management for home health care?
A home health nurse helps to establish goals of treatment and advance care planning by consulting with the patient's care team to improve health outcomes for people with chronic or life-limiting conditions. CDM often helps make a complicated situation more manageable.
How can home health care manage someone's medications?
A skilled home health professional can make sure someone's prescriptions are filled properly and that someone receives their medications on time. This caregiver can monitor someone's responses to medications and interactions while ensuring the patient takes their medications based on the bottle's instructions and doctor's orders. A medication manager can also ascertain whether someone's prescription should not be refilled.
How do I begin home health care for myself or a loved one?
Contact Phoenix Home Care today, or call 855-881-7442. We'll have an honest discussion about your needs or the needs of your loved one while consulting with the care team.
We want you to foster new beginnings as you embark on a healing journey that edifies your life or the life of your loved one while making our patients as comfortable as possible.
Team Phoenix provides several home health care services in Missouri, Illinois, and Kansas.